Hey there!
Since in the U. S. February is celebrated as Black History Month. I wanted to make a list of #ownvoices book recommendations by black authors. I also wanted to say it's important to read books by black authors and other marginalized authors all year around as well.
A Song Below Water By Bethany C. Morrow
Tavia is already at odds with the world, forced to keep her siren identity under wraps in a society that wants to keep her kind under lock and key. Never mind she's also stuck in Portland, Oregon, a city with only a handful of black folk and even fewer of those with magical powers. At least she has her bestie Effie by her side as they tackle high school drama, family secrets, and unrequited crushes.
But everything changes in the aftermath of a siren murder trial that rocks the nation; the girls' favorite Internet fashion icon reveals she's also a siren, and the news rips through their community. Tensions escalate when Effie starts being haunted by demons from her past, and Tavia accidentally lets out her magical voice during a police stop. No secret seems safe anymore—soon Portland won't be either.
Children Of Blood And Bone By Tomi Adeyemi
They killed my mother.
They took our magic.
They tried to bury us.

Now we rise.
Zélie Adebola remembers when the soil of Orïsha hummed with magic. Burners ignited flames, Tiders beckoned waves, and Zélie's Reaper mother summoned forth souls.
But everything changed the night magic disappeared. Under the orders of a ruthless king, maji were killed, leaving Zélie without a mother and her people without hope.
Now Zélie has one chance to bring back magic and strike against the monarchy. With the help of a rogue princess, Zélie must outwit and outrun the crown prince, who is hell-bent on eradicating magic for good.
Danger lurks in Orïsha, where snow leoponaires prowl and vengeful spirits wait in the waters. Yet the greatest danger may be Zélie herself as she struggles to control her powers and her growing feelings for an enemy.
Dear Martin By Nic Stone
Justyce McAllister is top of his class and set for the Ivy League—but none of that matters to the police officer who just put him in handcuffs. And despite leaving his rough neighborhood behind, he can't escape the scorn of his former peers or the ridicule of his new classmates. Justyce looks to the teachings of Dr. Martin Luther King Jr. for answers. But do they hold up anymore? He starts a journal to Dr. King to find out.
Then comes the day Justyce goes driving with his best friend, Manny, windows rolled down, music turned up—way up, sparking the fury of a white off-duty cop beside them. Words fly. Shots are fired. Justyce and Manny are caught in the crosshairs. In the media fallout, it's Justyce who is under attack.
A Song Of Wraiths And Ruin By Rosanne A. Brown
For Malik, the Solstasia festival is a chance to escape his war-stricken home and start a new life with his sisters in the prosperous desert city of Ziran. But when a vengeful spirit abducts Malik's younger sister, Nadia, as payment into the city, Malik strikes a fatal deal—kill Karina, Crown Princess of Ziran, for Nadia's freedom.
But Karina has deadly aspirations of her own. Her mother, the Sultana, has been assassinated; her court threatens mutiny; and Solstasia looms like a knife over her neck. Grief-stricken, Karina decides to resurrect her mother through ancient magic . . . requiring the beating heart of a king. And she knows just how to obtain one: by offering her hand in marriage to the victor of the Solstasia competition.
When Malik rigs his way into the contest, they are set on a course to destroy each other. But as attraction flares between them and ancient evils stir, will they be able to see their tasks to the death?
Raybearer By Jordan Ifunko
Nothing is more important than loyalty. But what if you've sworn to protect the one you were born to destroy?
Tarisai has always longed for the warmth of a family. She was raised in isolation by a mysterious, often absent mother known only as The Lady. The Lady sends her to the capital of the global empire of Aritsar to compete with other children to be chosen as one of the Crown Prince's Council of 11. If she's picked, she'll be joined with the other Council members through the Ray, a bond deeper than blood. That closeness is irresistible to Tarisai, who has always wanted to belong somewhere. But The Lady has other ideas, including a magical wish that Tarisai is compelled to obey: Kill the Crown Prince once she gains his trust. Tarisai won't stand by and become someone's pawn—but is she strong enough to choose a different path for herself?
The Black Kids By Christina Hammons Reed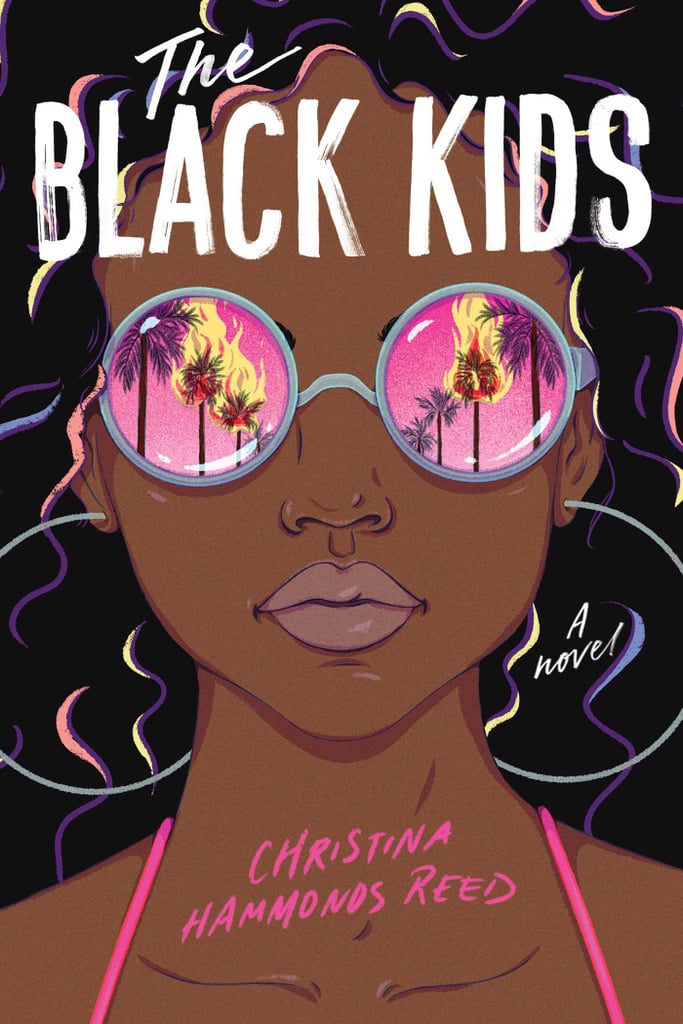 This coming-of-age debut novel explores issues of race, class, and violence through the eyes of a wealthy black teenager whose family gets caught in the vortex of the 1992 Rodney King Riots. Ashley Bennett and her friends are living the charmed life. It's the end of senior year. Everything changes one afternoon in April, when four LAPD officers are acquitted after beating a black man named Rodney King half to death. Suddenly, Ashley's not just one of the girls. She's one of the black kids.
As violent protests engulf LA and the city burns, Ashley tries to continue on as if life were normal. With her world splintering around her, Ashley, along with the rest of LA, is left to question who is the us? And who is the them?
The Only Black Girls In Town By Brandy Colbert
Award-winning YA author Brandy Colbert's debut middle-grade novel about the only two black girls in town who discover a collection of hidden journals revealing shocking secrets of the past.

Beach-loving surfer Alberta has been the only black girl in town for years. Alberta's best friend, Laramie, is the closest thing she has to a sister, but there are some things even Laramie can't understand. When the bed and breakfast across the street finds new owners, Alberta is ecstatic to learn the family is black-and they have a 12-year-old daughter just like her.
Alberta is positive she and the new girl, Edie, will be fast friends. But while Alberta loves being a California girl, Edie misses her native Brooklyn and finds it hard to adapt to small-town living.
When the girls discover a box of old journals in Edie's attic, they team up to figure out exactly who's behind them and why they got left behind. Soon they discover shocking and painful secrets of the past and learn that nothing is quite what it seems.
Punching The Air By Ibi Zoboi And Yusef Salaam
The story that I thought

was my life

didn't start on the day

I was born

Amal Shahid has always been an artist and a poet. But even in a diverse art school, he's seen as disruptive and unmotivated by a biased system. Then one fateful night, an altercation in a gentrifying neighborhood escalates into tragedy. "Boys just being boys" turns out to be true only when those boys are white.

The story that I think

will be my life

starts today

Suddenly, at just sixteen years old, Amal's bright future is upended: he is convicted of a crime he didn't commit and sent to prison. Despair and rage almost sink him until he turns to the refuge of his words, his art. This never should have been his story. But can he change it?

With spellbinding lyricism, award-winning author Ibi Zoboi and prison reform activist Yusef Salaam tell a moving and deeply profound story about how one boy is able to maintain his humanity and fight for the truth, in a system designed to strip him of both.
Legendborn By Tracy Deonn
After her mother dies in an accident, sixteen-year-old Bree Matthews wants nothing to do with her family memories or childhood home. A residential program for bright high schoolers at UNC–Chapel Hill seems like the perfect escape—until Bree witnesses a magical attack her very first night on campus.
A flying demon feeding on human energies.
A secret society of so called "Legendborn" students that hunt the creatures down.
And a mysterious teenage mage who calls himself a "Merlin" and who attempts—and fails—to wipe Bree's memory of everything she saw.
The mage's failure unlocks Bree's own unique magic and a buried memory with a hidden connection: the night her mother died, another Merlin was at the hospital. Now that Bree knows there's more to her mother's death than what's on the police report, she'll do whatever it takes to find out the truth, even if that means infiltrating the Legendborn as one of their initiates.
She recruits Nick, a self-exiled Legendborn with his own grudge against the group, and their reluctant partnership pulls them deeper into the society's secrets—and closer to each other. But when the Legendborn reveal themselves as the descendants of King Arthur's knights and explain that a magical war is coming, Bree has to decide how far she'll go for the truth and whether she should use her magic to take the society down—or join the fight.
All American Boys By Jason Reynolds And Brendan Kiely
Rashad is absent again today.
That's the sidewalk graffiti that started it all…
Well, no, actually, a lady tripping over Rashad at the store, making him drop a bag of chips, was what started it all. Because it didn't matter what Rashad said next—that it was an accident, that he wasn't stealing—the cop just kept pounding him. Over and over, pummeling him into the pavement. So then Rashad, an ROTC kid with mad art skills, was absent again…and again…stuck in a hospital room. Why? Because it looked like he was stealing. And he was a black kid in baggy clothes. So he must have been stealing.
And that's how it started.
And that's what Quinn, a white kid, saw. He saw his best friend's older brother beating the daylights out of a classmate. At first Quinn doesn't tell a soul…He's not even sure he understands it. And does it matter? The whole thing was caught on camera, anyway. But when the school—and nation—start to divide on what happens, blame spreads like wildfire fed by ugly words like "racism" and "police brutality." Quinn realizes he's got to understand it, because, bystander or not, he's a part of history. He just has to figure out what side of history that will be.
Rashad and Quinn—one black, one white, both American—face the unspeakable truth that racism and prejudice didn't die after the civil rights movement. There's a future at stake, a future where no one else will have to be absent because of police brutality. They just have to risk everything to change the world.
Cuz that's how it can end.
Tristan Strong Punches A Hole In The Sky By Kwame Mbalia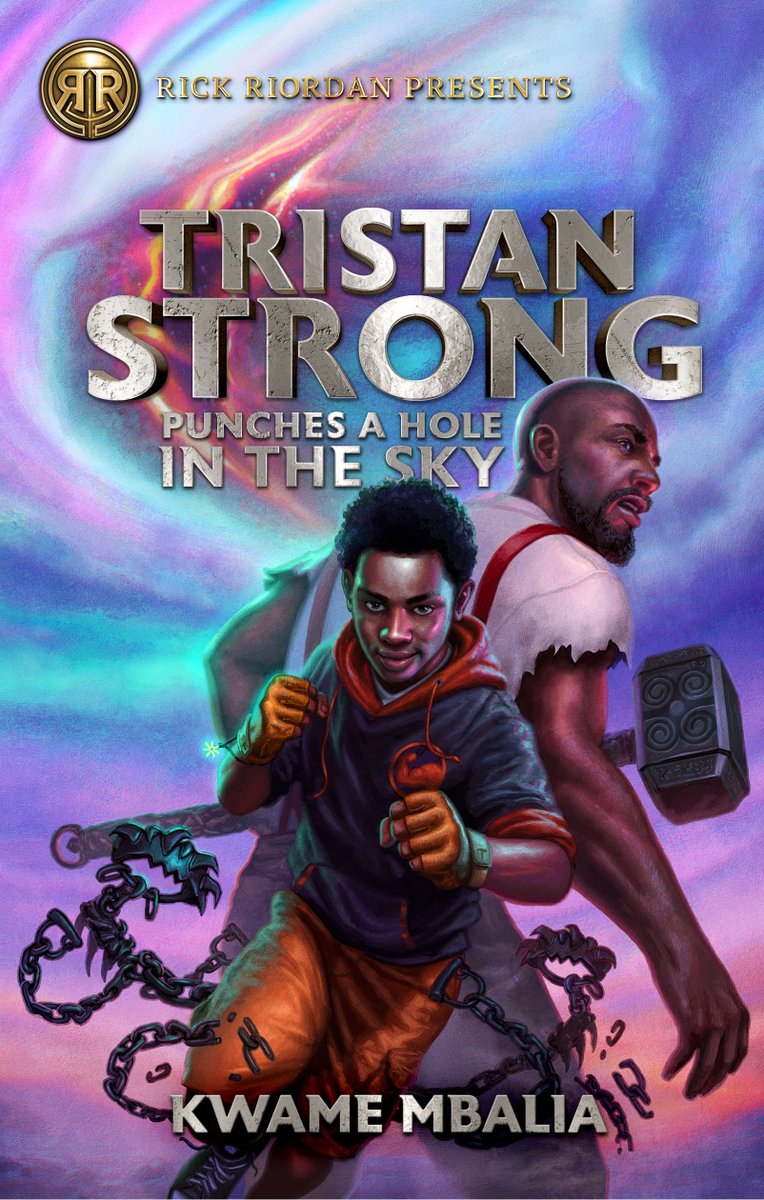 Seventh-grader Tristan Strong feels anything but strong ever since he failed to save his best friend when they were in a bus accident together. All he has left of Eddie is the journal his friend wrote stories in. Tristan is dreading the month he's going to spend on his grandparents' farm in Alabama, where he's being sent to heal from the tragedy. But on his first night there, a sticky creature shows up in his bedroom and steals Eddie's journal. Tristan chases after it — is that a doll? — and a tug-of-war ensues between them underneath a Bottle Tree. In a last attempt to wrestle the journal out of the creature's hands, Tristan punches the tree, accidentally ripping open a chasm into the MidPass, a volatile place with a burning sea, haunted bone ships, and iron monsters that are hunting the inhabitants of this world. Tristan finds himself in the middle of a battle that has left black American gods John Henry and Brer Rabbit exhausted. In order to get back home, Tristan and these new allies will need to entice the god Anansi, the Weaver, to come out of hiding and seal the hole in the sky. But bartering with the trickster Anansi always comes at a price. Can Tristan save this world before he loses more of the things he loves?
Genesis Begins Again By Alicia D. Williams
This is the story of a thirteen-year-old girl who is filled with self-loathing and must overcome internalized racism and a verbally abusive family to finally learn to love herself.
There are ninety-six things Genesis hates about herself. She knows the exact number because she keeps a list. Like #95: Because her skin is so dark, people call her charcoal and eggplant—even her own family. And #61: Because her family is always being put out of their house, belongings laid out on the sidewalk for the world to see. When Genesis reaches #100 on the list of things she hates about herself, will she continue on, or can she find the strength to begin again?
What are some of your favorite books by black authors?